Event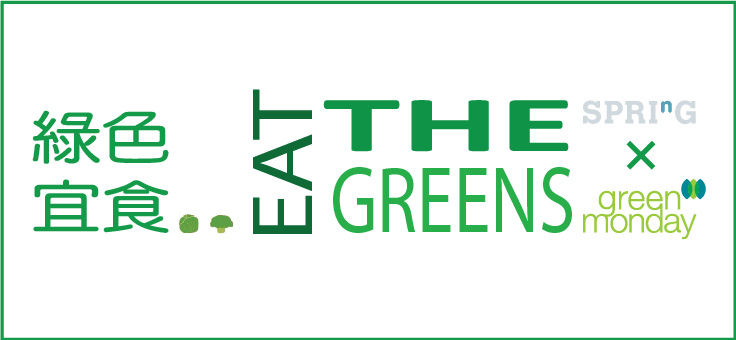 How to educate our children about pressing environmental issues

Promote green living one day a week

Introduce some yummy green recipes that your child will like
16 March 2014
How to Nourish a Green and Healthy Family – 16 March 2014
Do you wish your child to eat green but changing into a vegetarian diet seems too radical?  Can't think of any green dishes that will attract your picky eater at home?
Green Monday co-founder Mr. David Yeung will share with you tips on how to go green a baby step at a time with a range of practical initiatives.  Mr Yeung will also explore the wider social benefits of mobilising everyone to participate and the enormous positive impact that could have to our planet.
Many global leaders and celebrities have already joined in this green movement.  This is a golden opportunity for parents to encourage their children to eat more greens through the introduction of some yummy green recipes tailored to children's taste buds.
To register, submit an enquiry with your name and contact details. A member of our staff will contact you to process the registration.
About the Expert
Mr. David Yeung is the co-founder of Green Monday, a social enterprise that promotes healthy and environmental-friendly living in Hong Kong. He has been a vegetarian for 13 years.
David is a columnist on East Week, Metro Newspaper, Buddhist Compassion, as well as author of best-selling books 《開工正能量》 and 《Go Green餐廳88間》. He is a program host on Metro Radio and has given talks at numerous Fortune 500 companies and top universities.  He was recently selected by media as "Men of 2013" and "Local Heroes 2013."  Under his leadership, Green Monday also won the "Best Idea of 2013" recognition.
On the business side, Mr. Yeung operates his own investment, retail and marketing businesses.  He is the Managing Director of Fortune Park Holdings, as well as Chairman of retail groups Visual Culture and Shine.
DATE

Sunday, 16 March, 2014

TIME

3:00pm to 4:30pm

VENUE

SPRING
3/F, Centre Point
181-185 Gloucester Road
Wanchai

FEE

Free of charge