Event
SELECT A PROGRAMME

CHOOSE A DAY

FIND A TIME

BUY A SERIES

10% EARLY BIRD DISCOUNT BEFORE 31ST MAY 2016
Planning summer days at SPRING has never been easier; simply purchase a series of classes that can be used for any of our 8 programmes from 2 July to 31 August, book a class seven days in advance and you're ready to go!
From established favourites such as Cooking, Supersport, and Drama to our latest Piano and Science workshops, all summer programmes have been designed to accommodate class by class attendance.
To obtain a July / August class schedule, contact one of our Centre Receptionists at 3465 5000 or download from the below button.
FEE
$380 per class
Minimum package : 4 classes ($1520)
8 – 11 classes : 5% discount
12 classes or more : 15% discount
DANCE
Explore the joy of Ballet and Jazz with our summer dance classes available for 14 months to 5 year olds. Classes are designed and instructed in a fun way for children to develop basic movement skills, musical awareness, expression and creativity with themes from Tayler Swift "Shake it Off", songs from "Princess Sofia", "Little Mermaid" and "Peppa Pig and Friends". The very much loved Ms Jessica Li from Twinkle Dance Company and lead teacher of our Dance@SPRING programme will lead all classes.
AGE GROUP

14mths – 2.5yrs 2-3 yrs 3-5 yrs

TIMES

Tue 15:45 – 16:30 Thu 10:15 – 11:00 Tue 14:15 – 15:00 Tue 15:00 – 15:45 Thu 9:30 – 10:15 Tue 17:15 – 18:00 Thu 11:00 – 11:45 Thu 11:45 – 12:30 Tue 16:30 – 17:15

START DATE

5 July

DURATION

45 minutes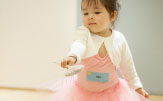 SCIENCE
Children are naturally curious and love to explore things in their surrounding environment. Inquisitive children can easily be encouraged to find things out for themselves by making observations and predictions while carrying out simple experiments and sharing their discoveries with one another. SPRING's Science Club encourages children to discover the world of science starting from their early years. Children are introduced to a wide range of new equipment such as magnets, scales and measuring cups, and have the opportunity to gain scientific knowledge through specially designed, fun experiments such as creating their own 'volcano eruption' using everyday cooking ingredients and a 'lava lamp' through a mixture of food colouring, oil and water. Engaging in these types of experiments will allow children to extend their problem-solving skills whilst also encouraging them to test their own predictions and observe their own findings.
AGE GROUP

3-5 yrs

TIMES

Wed 11:00 – 12:00 Fri 11:00 – 12:00

START DATE

6 July

DURATION

60 minutes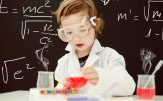 SUPERSPORT
Engage your child in a range of physical and sporting activities that will allow them to expend energy in a directed manner while developing a greater appreciation for a variety of sports. Inspired by our highly popular Supersport@SPRING programme, participants will be guided through the basic movements, posture, sport related terms and rules of each game throughout each class with sports ranging from rugby to tennis.
AGE GROUP

2-3 yrs 3-4 yrs

TIMES

Wed 9:30 – 10:30 Thu 15:30 – 16:30 Fri 14:00 – 15:00 Sat 10.45 - 11.45

START DATE

6 July

DURATION

60 minutes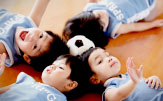 TAEKWONDO
The summer Taekwondo programme introduces children to the basics of the sport and touches on physical and mental conditioning within a martial arts context. Skills include punching, kicking, sparring and basic self-defense techniques. Students will also learn and practice the Taekwondo spirit of discipline, courtesy, integrity, self-control andmore. Those who attend the entire block of 8 classes will have the opportunity to participate in a promotion test from white belt to yellow belt status and receive an internationally recognized certificate.
AGE GROUP

2-3 yrs 3-4 yrs 4-6 yrs

TIMES

Wed 14:00 – 15:00 Wed 15:15 – 16:15 Fri 9:30 – 10:30 Sat 12:00 – 13:00

START DATE

6 July

DURATION

60 minutes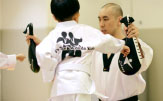 PIANO
Allow your child to have fun exploring music and prepare for studying any instrument in the future by starting with our Piano Workshop. Using the piano as a medium to studying music develops discipline, hand-eye coordination, intelligence, and creates a skill that can bring happiness to both the performer and to all who listen. The piano also provides a visual representation of music that is essential to understanding music theory. Choose from a range of themed workshops, including the 'Classic Era workshop', 'Baroque Era workshop', Romantic Era workshop' or 'Getting to know piano workshop' that teaches your little one about the composer, special characteristics of music, recognizing parts of the piano, musical notes, performance etiquette while engaging in fun movement activities using the Dalcroze learning method. The workshops will be taught by a highly experienced certified Suzuki music teacher, Ms. Rebekah Lau. According to a recent article published in the LA Times, 6-year-olds who received keyboard instruction had measured improvement in brain growth and fine motor skills as compared with their peers.
AGE GROUP

3-4 yrs 4-6 yrs

TIME

Tue to Fri 9:45 – 10:45 Tue to Fri 11:00 – 12:00

START DATE

12 July

DURATION

60 minutes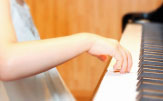 DRAMA
Help your child become more expressive and interactive with our Drama classes this summer. Children will practice basic drama and communication skills and learn how to communicate to an audience with dierent emotions while cooperating with other children.We will be concentrating on different occupations and creating stories around them and also reading story books and using the content as a stimulus for our drama adventures.
AGE GROUP

3-6 yrs

TIME

Thu 14:00 – 15:00 Fri 11:00 – 12:00

START DATE

7 July

DURATION

60 minutes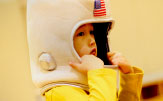 COOKING
Intrigued by Italian cuisine? Tempted by tastyThai delicacies? SPRING's summer cooking classes will take our little chefs onto a culinary journey aroundtheworld. Childrenwillbe introduced to the respective food and related traditions of each country, its nutritional value and learn basic food preparation concepts and cooking skills.
AGE GROUP

2-3 yrs 3-4 yrs 4-6 yrs

TIME

Tue 11:00 – 12:00 Thu 14:00 – 15:00 Fri 9:30 – 10:30 Tue 9:30 – 10:30 Thu 9:30 – 10:30 Wed 10:45 – 12:00 Thu 15:00 – 16:15

START DATE

2 July

DURATION

2-4 yrs 60 minutes / session 4-6 yrs 75 minutes / session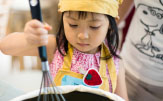 ART
This year, summer Art classes at SPRING will focus on our 'Blink Blink World'. Developed incollaboration with the renowned arts and design education group birdintree, participants will be taken on a journey to re-address their sensory awareness on each class topic and learn how to observe artistically in a 360° context prior to the
dress art
-making process.
AGE GROUP

2-3 yrs 3-4 yrs 4-6 yrs

TIME

Tue 16:30 – 17:30 Wed 9:30 – 10:30 Tue 11:00 – 12:00 Tue 14:30 – 15:30

START DATE

5 July

DURATION

60 minutes